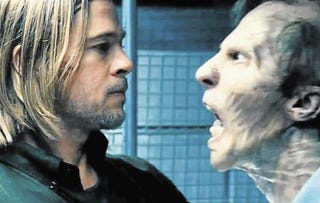 So, after all the hype and rumours of disaster, what's World War Z like? Well, even though it's directed by Marc Forster, it reminded me of the action films made by Roland Emmerich, which range from the nearly sublime (Independence Day) to the totally ridiculous (10,000 BC).
It's slap-bang in the middle of that quality spectrum, round about the level of Godzilla.
Movies don't come bigger than this, and zombie flicks usually come a lot smaller. In Shaun Of The Dead, the undead had to content themselves with snacking on a handful of British actors in a deserted pub. Here it's the future of humanity that's at stake. This time, instead of Simon Pegg, Brad Pitt is available to save us, and the skies are soon full of crashing helicopters, screaming jets and stunt people being sucked out of aircraft.
Scroll down for trailer



Gerry and the peacemakers: Brad and friends leap into action



Lacking depth: About all we learn about Pitt's character Gerry in the film is that he loves his family
The film is impressive in its big set pieces. The initial panic on the streets of Philadelphia is thrilling, as is the fall of Jerusalem to the undead horde and an airborne sequence that might easily have been called Zombies On A Plane.
But the film is horrifyingly feeble when it comes to characterisation. All we know about Pitt's Gerry is that he loves his family, but no one has given this hero any exceptional qualities. The same goes for the other characters: as uninteresting a lot as I've seen in a disaster movie.
We never know why the powers-that-be at the United Nations think so highly of Gerry. He's resourceful, but doesn't seem particularly brave, bright or knowledgeable. It is a central weakness that, without any particular expertise, he solves the mystery of how to fight the zombies before anyone else.



Negative reaction: The last 40 minutes of the film where rewritten and reshot while some parts of the movie appear to have been filmed to ensure it gets a family friendly certificate
World War Z had what might euphemistically be called a troubled history, with producer-star Pitt publicly at odds with Forster, who shows here once again that he is more confident with small-scale projects (such as Finding Neverland) than action adventures.
After negative reaction within the studio, the final 40 minutes were rewritten and reshot, at an unprecedented cost of £125  million. It's hard to know where the money went. The climactic sequence inside a Welsh research laboratory looks about as lavish as the average episode of Doctor Who. Pitt introduced the screening I attended and called the film 'original' and 'genre-bending'. If only it were.