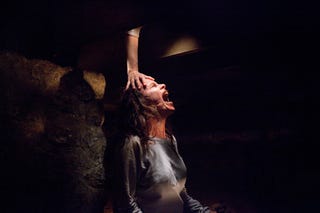 Film: The Conjuring
Cast: Patrick Wilson, Vera Farmiga, Ron Livingston, Lili Taylor
Director: James Wan
Rating: ****1/2

What's it about
When you have a disclaimer before a film that says "members of the paranormal society" would be available for counselling after the screening, you roll your eyes and perceive it to be nothing but a marketing gimmick. But trust me as the end credits roll out, you might actually want to see if these folk exist, and if there is a chance of having a discussion with them. Set in the 70's The Conjuring is a throwback tribute to the classic The Amityville Horror style of film making. So we have the creaking doors, eerie groans, watches stopping at 3:07 in the morning, and other bad omens that signify the presence of a demonic entity. Ghost hunters Ed (Patrick Wilson) and Lorraine Warren (Vera Farmiga) take interest in the Perron family after a series of strange occurrences in their new Rhode Island house start troubling them. The paranormal investigators dig up the house and its surroundings past revealing facts and making claims that shake the very core of the Perrons.

What's hot
It is an old school horror film, one that doesn't necessarily dig deep into your psyche, but plays more on the sights and sounds of its story line. The cinematography, art work and set design is outstanding. We actually feel like a part of the period and are constantly reminded of two cult films – The Exorcist and The Omen. The first has been remade and rehashed over the last few decades, while the second is still remembered for its haunting background score. The Conjuring uses elements from both these films to create an original setting. There isn't a single dull moment, you are on the edge of your seat rooting and praying the family triumphs over their satanic adversary. Make up and special effects are remarkable. Patrick Wilson and Vera Farmiga are fantastic and keep it real as detectives who are facing their inner demons before hunting those on the outside.